Natalie and Hannah are best friends, and can transform into
Pretty Cure
.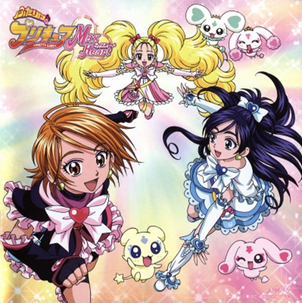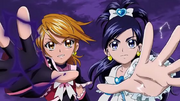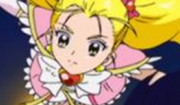 Nagisa is the athletic heroine of the series. She is the captain of the school's lacrosse team and is very popular. Although she is bad at school and is immature, she has her own sense of justice and never lets anyone dear to her down. She s a scatter-brained glutton who loves Akane's takoyaki. Her alter ego is Cure Black.

Honoka is the best student in the class, and loves reading books and science. She is the president of the Science Club. Though popular with the boys, she has no interest in them and is rather asocial in a formal manner. However, the friends that she does have are very close to her, and she will do everything to protect them. She has a lot of hope and can always see the good in people. She lives with her grandma since her parents travel a lot. Her alter ego is Cure White.
A mysterious girl who is later revealed to be the life of the disappeared Queen. Although technically not a Cure, she has special powers that aid the girls while fighting. Hikari is sweet and gentle and always thinks of others. She works with Akane at the Tako Cafe. Her alter ego is Shiny Luminous.